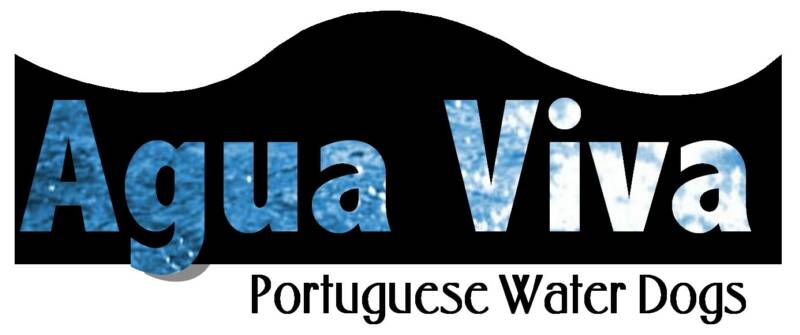 Ch. Agua Viva's Moonlight Sonata, RN, TT

"Sunny" is a son of Ch. Sunnyhill Dom Benjamin ("Benjamin") and Ch. Agua Viva's Indira's Mirage ("Meera").  He is the first male we have ever kept.  We actually didn't plan on keeping him, but after Lorri fell for that cute face, there was no way he was going to another home.  Bob Candage of Nightskye Kennels gave the okay conformation wise and told us "to have fun with him."  So, Sunny and his sister Dynna stayed on with us.

Sunny is a loving, sweet, VERY funny boy.  He has one of those Portie minds that is always thinking "what do I want" and "how can I make my people get me that."  Once he grew into his body, at about a year and a half, he finished his championship easily.  Lorri and Claudia McNulty, our Bearded Collie friend, showed him and he finished with four majors.  The last major was won at the Detroit Kennel Club dog show in Detroit, MI in March of 2004.

After finishing his championship, Lorri and Sunny started training for the Rally-O obedience title.  He took to training easily and finished the Rally Novice title in June of 2005.  Then in the summer of 2006 Sunny obtained his TT title from the American Temperment Test society.

At the 2006 PWDCA PWDCA National Specialty, we almost lost our sweet, handsome boy.  He was spooked during a rainstorm and took off running into the woods.  Three and a half days later he was back with us, safe and healthy.

Sunny spends his time with his sister, Dynna, niece Zoey, daughter Luna and his humans Lorri, Rosanne and Art.  His favorite game is "the bone game" where he keeps "his" bone away from the other dogs.  He is continuing his obedience training and therapy work at the local nursing homes.  He has also been siring some spectacular litters.  He is passing on his lovely movement, excellent bone, substantial head and smart, loving temperment.  Below, you will find a list of his litters sired to date: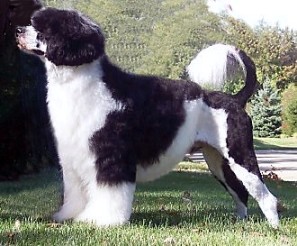 Whelped:

     September 4, 2002
Breeder:

      Rosanne & Art Cherkinsky and Lorri Cherkinsky
Sire:


    Ch. Sunnyhill Dom Benjamin
Dam:

           Ch. Agua Viva's Indira's Mirage
HEALTH TESTING:

OFA (hips):          PW-3856G24M-PI

     (elbows):        PW-EL1042M24-PI

Optigen:

      Normal
GM-1:


   Clear
CERF:

          PW-4446N/2008--75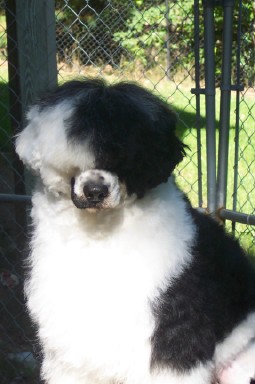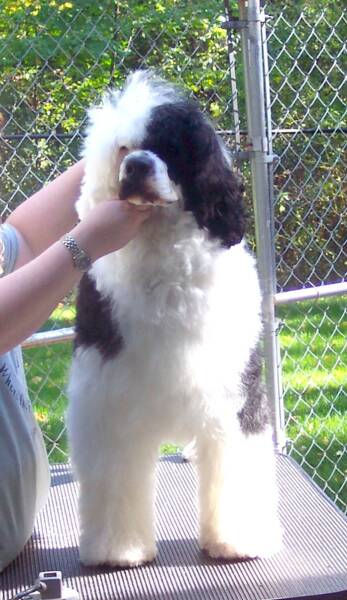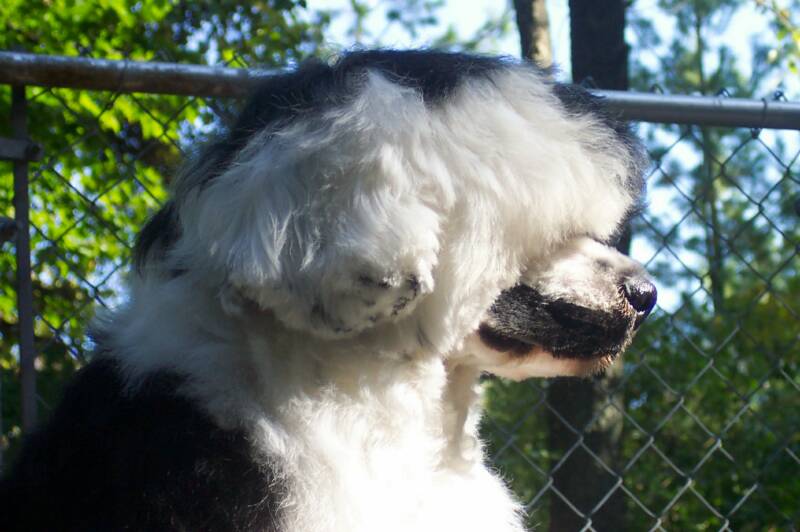 # of
                                    DAM                                                                     puppies                                                                               ____________________________________________________   






1. Agua Viva's La Vida Loca "Rikki"




4





2. Ch. Aarion's Provaca of Nightskye "Scout"


6





3. Timber Oaks Anna Banana "Annie"  



12





4. Timber Oaks Ariel "Ariel"





  8





5. Ch. Marshview's Our Belle Nell "Nellie"


     9





6. Can. Ch. Sharmink's Lizzie  "Lizzie"        


6





7. Ch. Blue Run's Bella Voce "Bella"




5





8. Ch. Timber Oaks Nick In Time "Nikki"


     3





9. Ch. Zohar Spirit of Glacial Mist "Pandi"  

        7





10. Timber Oaks Anna Banana "Annie"



13





11. Aarion's Lumina of Nightskye "Puddin" 


10





12. Aarion's Billie Jean "Billie Jean"



     3





13. Timber Oaks Anna Banana "Annie"



11





14. Northshorr's All That Jazz  "Jazz"



   8





15. Ch. Zohar Spirit of Glacial Mist "Pandi"


  7





16. Ch. Deewal Don't Rain On My Parade "Liza"

   6
16.                                 17. Timber Oaks Anna Banana "Annie"                       12                                                             

17.     

"

"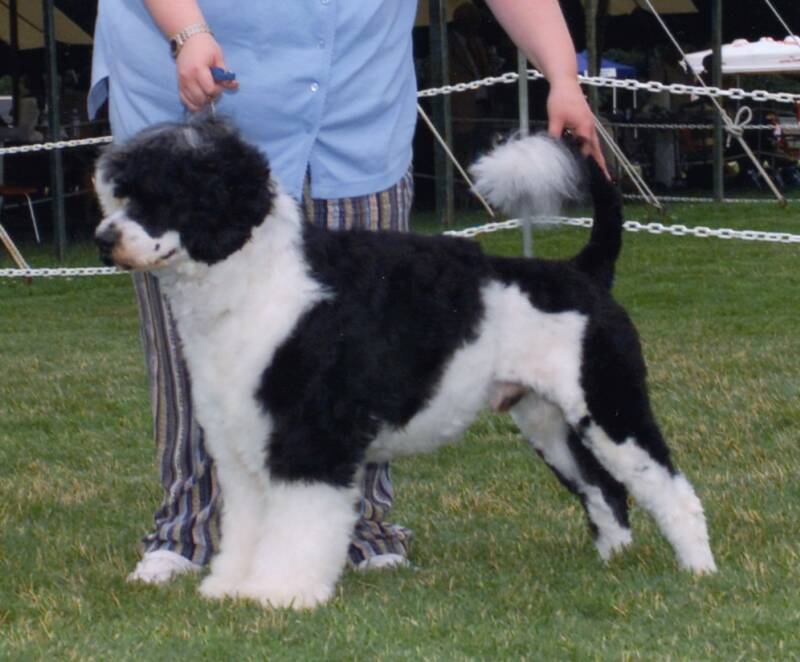 Winning the points in Canada - owner handled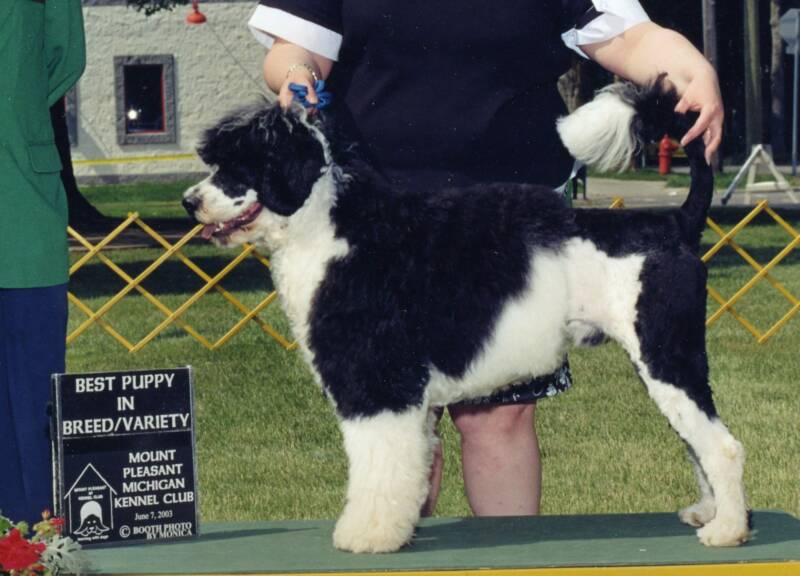 Pictured at 9 months - Best Puppy in Breed

18. Can. Ch. Sharmink's Lizzie "Lizzie"                     12